Vivid Sydney has a brand new playground this year and it has been designed to be fully inclusive so that children with disabilities can enjoy this spectacular festival too.
Tumbalong Lights has been designed as a series of interactive and inclusive light installations at Tumbalong Park in Darling Harbour and has been created in partnership with Vivid Sydney's access and inclusion partner, Cushman & Wakefield.
Cushman & Wakefield Chief Executive James Patterson said, the underwater-themed installations have been designed to help produce a sense of empowerment, control and community and will be open to the public from 6pm to 11pm every night of Vivid Sydney (25 May – 16 June).
"Our objective was to create a sensory-rich play experience where all children have the opportunity to play, participate and belong." Mr Patterson said
Tumbalong Lights – What To Expect
Installation Name: Beneath the Sea at Tumbalong Lights
Artist: Matt York, Spiire, Big Fish
Beneath the Sea enables children and their families to experience the simple beauty of the aquatic landscape that lies beneath Sydney Harbour. Illuminations create a sea floor complete with soft flowing currents, bubbles, sea grass and sea life.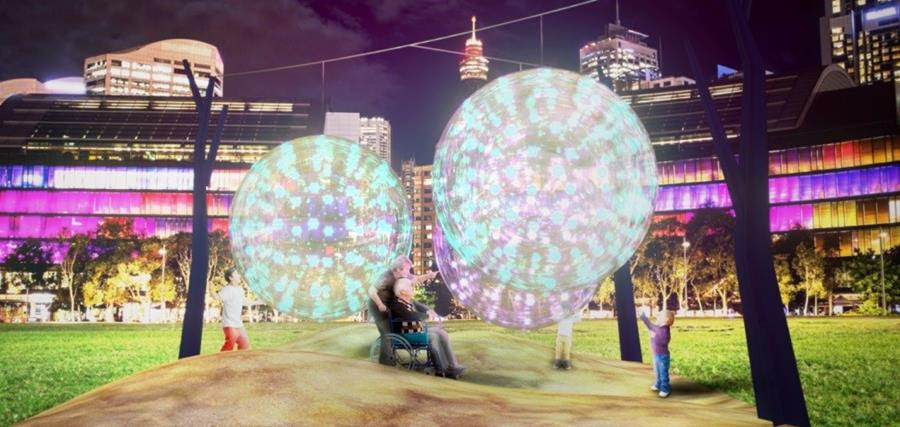 Installation Name: Ride into the Night at Tumbalong Lights
Artists: Antony Neeson & Mark Vincent, Habitat Media
Ride into the Night channels the glory days of the suburban roller rink – but instead of skates, all participants circle the rink in wheelchairs. Aquatic-themed light projections and soundscapes transform the rink into a ride across the oceans.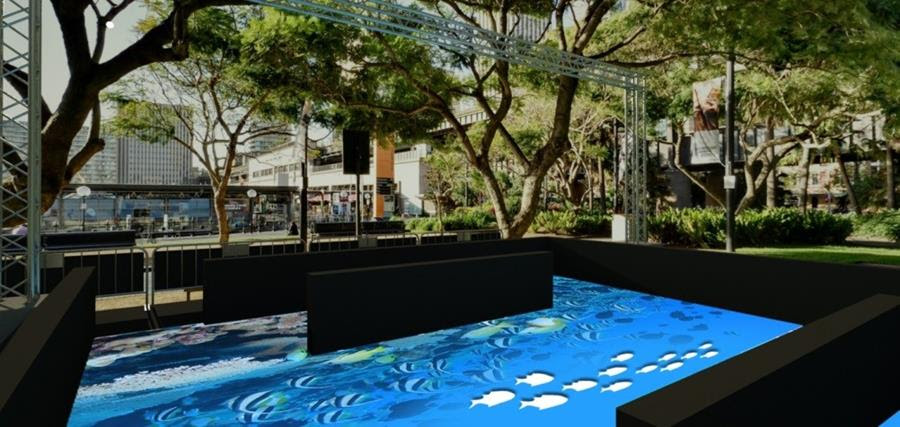 Installation Name: In the Scale of the Sea at Tumbalong Lights
Artists: George Buchanan & Govinda Webster, Pink Cactus
In the Scale of the Sea takes visitors into a world of underwater, musical whimsy. A giant musical keyboard circles an 'ocean bed' of corals, sea creatures and kelp 'trees'. Visitors touch the keys to create captivating sound and light shows.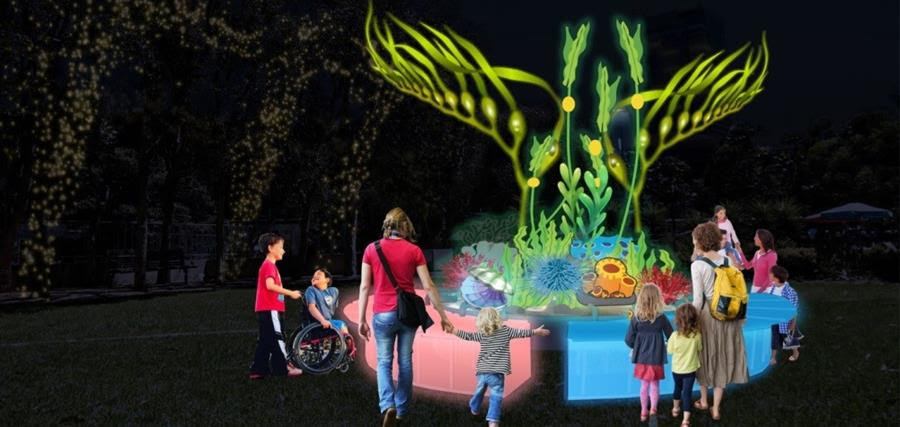 Installation Name: Enchanted Garden at Tumbalong Lights
Artist: Lucka Slatner Smrkolj, Light Atelier
Enchanted Garden reveals a pathway into a glowing underwater world where visitors interact with a garden of illuminated sea plants. This garden is a fully inclusive and accessible play experience for children and families of all ages and abilities.
For visitors that would prefer alternative sensory or crowd levels, a more customised visitation session can be pre-booked for free through www.cwtumbalonglights.com.
The Darling Harbour precinct has a variety of options for nearby access to car parking spaces and amenities.
Tumbalong Lights has been brought to life by a collaboration between Cushman & Wakefield, Charter Hall, Stockland Care Foundation, ARA Group, Westpac and Australia Post.
For more details about Vivid Sydney 2018, including transport tips, visit www.vividsydney.com and download the Vivid Sydney App, which will keep you up-to-date and help you navigate the precincts and installations. It is available free to download from the App Store or Google Play Store.